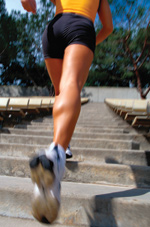 Do You Run or Walk Everyday?
With one quarter of your bones, 33 joints, 107 ligaments and 19 muscles and tendons holding the feet together, it's no wonder that running with pressures equal to up to ten times your body weight is a major contributor to foot injuries. As well with walkers there is pressure of two to four time your body weight with each step and ten times on each knee. Many walkers as well walk with a heel strike causing twice the shock through the body. Look closely at the "factory insole" as well as the inside of your shoes and you will find them flat.  Is your foot flat?  Look next time you walk on sand or dirt and you will then understand why DownUnders Orthotics unique self-molding lightweight features can make all the difference in the world.
---
Testimonials from Runners & Walkers
In our opinion, no other product for fit, comfort and performance comes close.
"Gear Of The Year: Our Picks Of Top Products for 2001"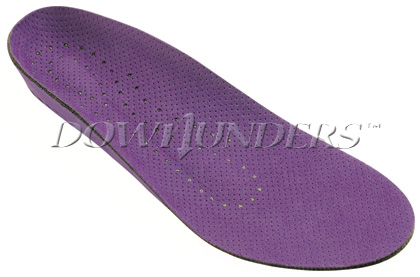 Insoles Model: Purple - PO1
Top Cover: Moisture wicking, very durable
Core: Black P.E. Foam
Stabilizer: Honeycomb EVA
Inserts: Dual Density Red/Green
Profile: Medium
Sizes Available: Mens 3 - 16 and Womens 2 - 12
---
Product Review
SNEWS May 1998
DownUnders
The insoles feature a deep heel pocket, full-length tear drop shape that encourages foot alignment, forefoot inserts that add stability, a honeycomb heel stabilizer, and shock absorbent Double Bubble.
One tester writes: "They proved a good thing for me to test since I have some foot problems and already wear corrective orthotics. I first used them in some cross country ski boots that have always been a little uncomfortable and fit poorly. The DownUnders improved the fit tremendously, and I actually enjoyed skiing in boots that frequently caused some foot pain on any tour over 5 miles. I think they really help my foot to relax and act naturally.
"Next I used them in a favorite but fast wearing out pair of running shoes. It was like the shoes were new again! I got a couple runs of 5.5 miles in and feel the insoles add a lot my comfort level.
"I also used them in my hiking/approach shoes at the Owens River Gorge. I found them to improve foot control when the trail was sketchy, and where I was carrying a heavy pack over terrain with bad consequences if I lost my footing. I've tried a number of different insoles and these are by far the most sophisticated. I did tow pitches of 5.9 in my approach shoes and found them to improve the fit so much that I could climb comfortably at that level.
"I'd give the DownUnders a 5 star rating, especially since I didn't need to trim them at all to fit any of my shoes."
Even our most cynical tester, who usually launches into a tirade on the problems with a product he's tried, had good things to say: "A few weeks ago I went for a run in a brand new pair of running shoes. After a mere 40 minutes, I had nickel sized blisters on both heels. After the blisters healed, I went on another run. Same shoes, same socks, but this time with DownUnders footbeds. That time I ran for just over an hour, and at the end – no blisters. It had to have been the footbeds that made the difference, because all the other variables were the same, even the trail."
---
Product Review
The Bulletin
Footbeds offer comfort, support
DownUnders come in a variety of styles
By Scott Staats
The Bulletin
I've learned at least one thing while out hunting or hiking – the ground is rarely soft or level.
I can handle the animals giving me a beating, but my feet aren't as forgiving. When your feet are comfortable, you can stay in the field longer and have a more enjoyable outing.
There are many kinds of footbeds and insoles available but most insoles are nothing more than squishy little sponges with a half-life of a wet paper bag. The stiffer footbeds make your feet conform to a pre-molded shape and create more pain.
DownUnders made by Walkabout International in Sunriver, are made with EVA and natural cork stabilizers. These light-weight, durable footbeds actually self-mold to your unique foot shape and also wick moisture away from your feet. They are available in men's sizes 3 to 16 and women's sizes 2 to 12 and can be trimmed to fit any shoe or boot.
There are six styles of DownUnders, depending on the type of activity or sensitivity of people's feet. An arch support custom aligns the foot's arch with every step while a deep help cup absorbs impact shock. The footbeds are made in Italy, which is renowned for making the best footwear in the world. DownUnders retail for about $43. They are available at Walkabout International
Or local outdoor or footwear retail stores.